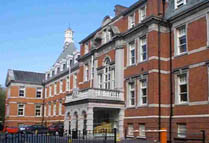 Eye & Ear Hospital
Address:
Department of Anaesthesia
Adelaide Road, Dublin 2.
Ireland.
Contact Details:
Tel. +353.1.678.5500
Fax. +353.1.676.1858

Web Link: Click here
Department of Anaesthesia
Consultant Anaesthetists

Dr. Mark Halligan

Dr. Brendan O'Hare

Dr. Deirdre McCoy

Dr. Dermot Kelly

Dr. Mohammad Mukhtar (Chairman)

Dr. Denise Rohan

Dr. Niall Fanning
Fellow - Difficult Airways




Chair
Dr Denise Rohan
Pre-Op Assessment Clinics
Schedule
Local Anaesthesia for Ophthalmic Surgery Workshop - November 2022

Read More...
Ophthalmic Post Graduate Teaching Programme & Video Conferencing Seminars
www.rveeh.ie
Ophthalmic Regional Anaesthetic Society of Ireland

www.orasi.ie
Royal Victoria Eye & Ear Hospital Research Foundation
New Frontiers in Ophthalmology, 22nd June, 2023
The Health Research Charities Ireland (HRCI)
RIP Thomas Kenneth Whitaker 1916-2017 - The Architect of Modern Ireland
The Royal Victoria Eye & Ear Hospital wishes to acknowledge the contribution of TK Whitaker during his tenure as Chairman of the Council of the Eye & Ear Hospital.