Profile of Teaching Programmes
Medical Student Education in Anaesthesia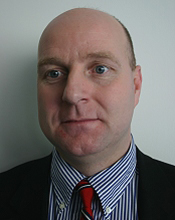 Professor Dara Breslin
Senior Lecturer
The Department of Anaesthesia looks forward to introducing you to the field of Anaesthesia and informing you about our multiple academic endeavors in clinical care, education and research during your 1 week rotation. In addition the medical student will learn about the perioperative care and management of the patient including acute and chronic pain management and intensive care management.

During this time we will involve you in the perioperative care of multiple types of patients as well as provide you with didactic talks on the fundamentals of anesthesiology. You will learn skills such as bag-mask ventilation, endotracheal intubation and vascular line placement.

Students who wish to solidify their clinical skills, expand their knowledge base and be exposed to a wider array of patients than is feasible during the one week rotation may wish to do electives or participate in research projects in anaesthesia, pain or intensive care medicine.
For more information please contact:
Dr Dara Breslin, Consultant Anaesthetist, Senior Lecturer
Post Graduate Training in Anaesthesia/ICU/Pain Management
The consultants are dedicated to training superior clinicians of our specialty and stimulating a lifelong interest in learning. The training in anaesthesia offers the triad of excellent clinical patient care, continuing education for all members of our department and research activities designed to bring forth new knowledge. While covering the majority of surgical subspecialty areas, trainees at St Vincent's University Hospital will also gain exposure to major thoracic, hepatobilary and transplant surgery. In addition trainees will rotate through intensive care and pain medicine. There is also a strong emphasis on the use of regional anaesthesia (and ultrasound guided regional anaesthesia) both for surgical anaesthesia and post operative analgesia.
In Summary our aim is to help anaesthesia trainees acquire the skills, knowledge and expertise essential to the modern practice of anaesthesia.
Fellowships
The Department of Anaesthesia, Intensive Care & Pain Management offer fellowship positions in Pain Manage-ment, Hepatobilary Transplant and Intensive Care Medicine Programmes.
Teaching Programme Facilitators - General Anaesthesia / Simulation
The Teaching Programme is in addition facilitated by Dr. Ingrid Browne and Dr Niamh Conlon, Consultant Anaesthesists.
| | | | | |
| --- | --- | --- | --- | --- |
| | | | | |
| Dr. Niamh Conlon | Dr. Ingrid Browne | | | |
Teaching Programme Facilitators - Intensive Care
Dr. Andrew Westbrook

Intensivist

Dr. Donal Ryan

Intensivist

Dr Orsolya Solymos

Medical Director ICU