News Archive 2010
Vietnam Surgical Team - Dr. Brendan O'Hare January 2010
Each year for the past 7 years medical teams from OLCHC have gone to paediatric hospital number 2 in Ho Chi Minh CIty in Vietnam to provide medical assistance across a wide range of paediatric specialities - surgery, ENT, cardiology, respiratory, orthopaedics, plastic surgery, urology, anaesthesia and critical care. Partners in this initiative include the Christina Noble Childrens Foundation, RCSI, OLCHC, the hospital in VIetnam and Irish Aid. It is a two way process with specialists from Vietnam coming for further specialist training here in Crumlin also. The project lead is Prof. Martin Corbally.


Dr. Dermot Kelly Chairman Sligo Rovers FC 2009/2010
Dr. Dermot Kelly Consultant Anaesthesist at St. Vincent's University Hospital & the Eye & Ear Hospitpal is also in 2009 the Chairman of Sligo Rovers FC. We offer our congratulations to Dermot and his management team & players in securing premiere division football for the next season which was always their primary goal.
Also having undertaken a major development at the showgrounds, Sligo Rovers FC were awarded a categrory 2 stadium status and thus deeemed a suitable venue for European football. Dermot and the boys have capped a very successful year by reaching the FAI cup final on November the 22nd beween Sligo Rovers and Sporting Fingal at the Tallaght Showgrounds. Unfortunately the final score was Sporting Fingal : 2 Sligo Rovers : 1. To Dermot and his squad, good luck and continuing success in future seasons.

We are delighted that after guiding Sligo Rovers in a very successful season in 2009 that Dermot Kelly was reappointed as Chairman for 2010. We wish Sligo Rover continued successs.

www.sligorovers.com
Difficult Airway Workshop - 29th January 2010
Venue:
St. Vincent's University Hospital

Co-Ordinator:
Dr. Niamh Conlon / Dr. Erik Korba
Pictured are the attendees at the Difficult Airway Workshop 29th January 2010, SVUH

International Conference - Pain in Women
The International Conference was held in Dublin on 28th and 29th January 2010.
Venue:
28th January 2009 - College of Anaesthetists
29th January 2009 - Royal College of Physicians

Organising Committee:
Dr Kevin McKeating, Consultant Anaesthetist, National Maternity Hospital
Dr Declan O'Keeffe, Director of Pain Medicine,Dr. Paul Murphy, St. Vincent's University Hospital
Professor James C. Eisenach, Masterclass in Jounal Publications
Pictured are the attendees at the Second Annual Scientific Meeting of the Faculty of Pain Medicine,
College of Anaesthetists of Ireland




Dr. Abdul Ali, SVUH; Dr. Declan O'Keeffe, SVUH;
Dr. Brendan Conroy, Limerick; Dr. Tolu Alugo,
SVUH; & Dr. Daniel, SVUH

Dr. Petr Schweinhardt, McGill University, Montreal & Dr. Philip Hu, AMNCH Tallaght

Emer Murphy, Mairead O'Riordain, Leslie Ann Ross
& Susan Quinn; all physiotherapists from Dublin

Dr. John Magner, Beacon Hospital; Dr. Donal Harny, Mercy Hospital & Frances Prendergast, Pfizer

Dr. David O'Gorman, UCHG; Dr. Frank Chambers, Mater Hospital; Tom Coogan, Grunethal & Dr.
Ben Pais, Grunethal

Deirdre O'Brien, Medtronic; Dr. David Abejon, Madrid; & Paolo Rueda, Medtronic

Dr. Rajesh Jain, Crumlin Hospital; Dr. Aman Ahuja, Mater Hospital; & Dr. Rekha Gupta, National Maternity Hospital

Dr. R. Suresh Babu, MUHC; Dr. C. N. Chandra Sekhar, MUHC; & Dr. Magesh Shanmugam, UHC
Dr. Niamh Conlon & Mr. Sean Dudeney SVUH head to Boucain Carre Hospital, Haiti with the Irish Orthopaedic Haiti Fund Team - 12th February 2010
| | | |
| --- | --- | --- |
| | | |
| Some of the Irish team | OR Dr. Niamh Conlon & Mr. Sean Dudeney, SVUH | |
| | | |
| A patient with her new Spica | Crossing the Haitian border from the Dominican Republic | |
| | | |
| Physiotheraphy with a young amputee | Tent camps in Port-au-Prince | |
| | The entrance to the Hospital in Cange | |
| Temporary ward in the church | | |
Hepatobiliary Anaesthesia & Liver Transplantation Masterclass - 13th March 2010
Venue:
St. Vincent's University Hospital
Download Timetable...
Contact:
Dr. Niall McDonald - Department of Anaesthesia
Download Aplication Form...
Pictured are the attendees at the Hepatobiliary Anaesthesia & Liver transpantation Masterclass, St. Vincent's university Hospital
Photographs courtesy of ImageBureau
Photographs courtesy of Department of Anaesthesia, St. Vincent's University Hospital
'Anaesthesia Emergencies' Part 1 Simulation Course for non-consultant hospital doctors - 26th March 2010
Venue:
College of Anaesthetists of Ireland
Co-ordinator:
Dr. Crina Burlacu, Consultant Anaesthetist
Download Anaesthesia Emergencies Simulation Course (CAST) .PDF
Read 'Irish Medical Times' Article


| | | | |
| --- | --- | --- | --- |
| | | | |
| VASGBI Simulation Workshop, Kinsale 2009 | | | |
| | | | |
| | | | |
| Trainer Simulation facilitators course, Dublin 2009 | | | |
| | | | |
Dr. Michael Slazenger, R.I.P.
Consultant Anaesthetist,
St Vincent's University Hospital & St. Michael's Hospital
Retired 2005. Died 12th April 2010.


Irish Anaesthesia Indebted to Michael
It was with great sadness and regret that we learned of the untimely and tragic death of Michael on 12th April 2010, resulting from an aviation accident in Powerscourt Estate, Co. Wicklow.
During his career at St Vincent's and St. Michael's, he worked with many of Ireland's leading surgical specialists. To his patients he was a devoted and caring doctor. He took a special interest in neuroanaesthesia and total intravenous anaesthesia, greatly abeited by his keen intellect and his in-depth knowledge of computers. He instilled in his trainee doctors his own love for knowledge, expressed through his teaching, clinical research and his constant striving for higher standards. He retired from St. Michael's in 2005.
Irish Anaesthesia remains indebted to Michael for his pioneering advances.
To his family we as his Medical colleagues express our deepest sympathy.

Read Irish Medical News Obituary - 10th May 2010

CSTAR a consultancy & training service launches new website
CSTAR, a statistical advisory servive for health research professionals, was launched on 25th May in Newman House.
Website: www.cstar.ie
Regional Ultrasound Workshop - 14th May 2010
Venue:
St. Vincent's University Hospital
Lecture - ERC - 7.30 - 8.30 a.m.
Workshop - Theatre 8 - 3 - 5 p.m.
Co-ordinators:
Dr. D. Breslin, Dr. N. Conlon, Dr. E. Korba, and Dr Wouter Jonker

UV worldwide forecasting website recently launched.
A new Irish UV forecasting site provides hourly information of UV radiation for any location in the World. The growing number of skin cancer and cataract cases in patients related to UV exposure is a concern echoed by the World Health Organisation (WHO), Governments, Medical practitioners, and Cancer Orgainsations the World over. UVAwareness.com aims to bring awareness to UV-related health risks and is the only site to deliver localised hourly UV Index forecasts in line with W.H.O. guidelines on a global level.
Read More...
Presentation of gold medals 2010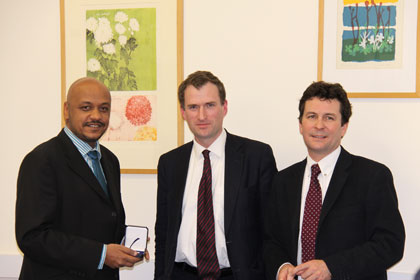 Dr Tom Owens, Chairman & Mr. Barry O'Donnell presents the Dr. Seamus O'Donnell memorial award for best SpR in ICU to Dr. Sahel Ahmed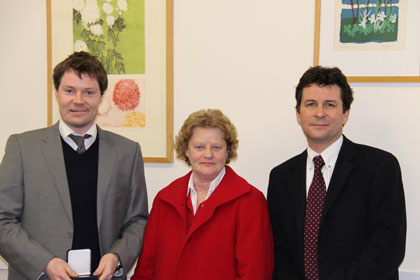 Dr Tom Owens, Chairman & Mrs. Monica Bishop presents the Dr. Gerry Dorian memorial award for best SpR in Anaesthesia to Dr. Patch Thornton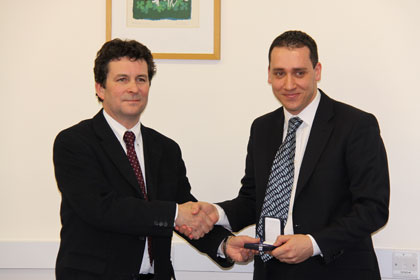 Dr Tom Owens, Chairman presents the Dr. Dick Nolan memorial award for best BST trainee went to Dr. Jacques Diacono
Sligo Rovers win FAI Cup in Penalty Shoot Out Thriller
14th November 2010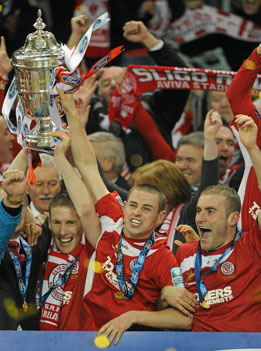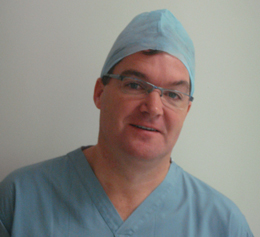 Congratulations to Dr. Dermot Kelly, quintessential football man, Chairman of Sligo Rovers and Consultant Anaesthetist, St. Vincent's University Hospital and Eye & Ear Hospital, on leading his club to victory in winning the FAI Cup at Aviva Stadium. This caps a magnificent year for Sligo Rovers in that they also won the EA Sports League Cup and finished third in the league.
Moonlight Fund Raising Challenge for Mountain Rescue 20th November 2010
The Dept. of Anaesthesia St. Vincent's Hospital " Dream Team", ably lead by Australian Dr. Craig Dunlop, with colleagues Dr Hugh O'Callaghan of the Wicklow Mountain Rescue Team and Dr. Damien Archibald of the Dublin Wicklow Mountain rescue Team, put in the gutsy performance of the Night with a formidable time of 4 Hours 45 mins for the 26Km trek. Congrats Guys.
Read More...